Welcome to the beautiful island of Symi!
Why visit Symi?
Symi is an island that has a little of everything: beautiful environment, nice taverns and wonderful waters for swimming. It fascinates you from the very first moment that the ship approaches the port of Gialos. The neoclassical mansions in the port of Symi, Gialos, keep alive the color of the past and transmit you the same glamor. In the port you will admire the Cathedral of Timios Prodromos of 1838, the Customs, the Fish Market, the stone bridge, the statue of the little fisherman, the clock of 1881 and the old shipyard in the Harani district. Five hundred stone, wide stairs lead you from Gialos to the Village, Ano Symi. This is Kali Strata: houses and shops in the richest and most beautiful area.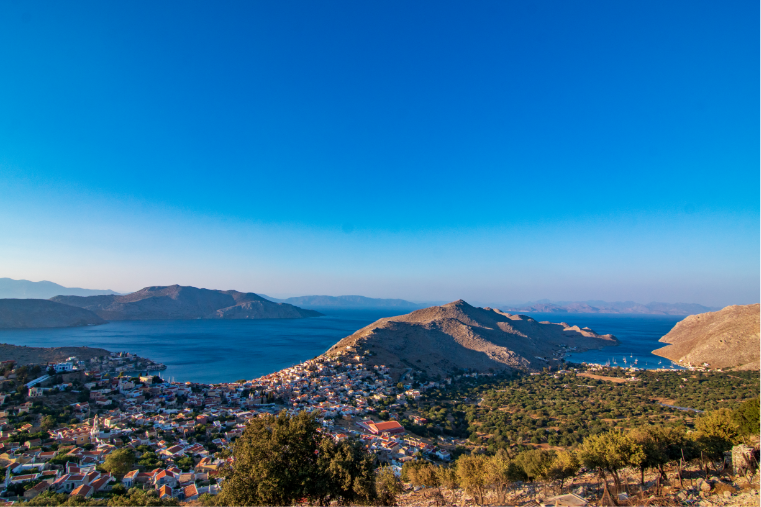 How to visit?
You can visit the island of Symi in various ways. There is a ferry connection through regular itineraries from the port of Piraeus. It also has a ferry connection with the following ports: Rhodes, Kalymnos, Kos, Leros, Lipsi, Nisyros, Patmos, Tilos. There is no airport in Symi, so those who wish to travel by air must first travel to Rhodes, Kos, or even Athens and then arrive in Symi by boat. You can reach the island by your own boat as well as in consultation with the tourist offices of the island.

}
History of Sponge Fishing
Symi had the largest sponge fleet in the world and pioneered both the primary sector, sparring in the so-called Barbary coast, the coasts of North Africa and in particular Benghazi, as well as sponge processing (secondary sector) and channeling. and its trade (tertiary sector), through Syros, London and the USA. The head of this important industry was the Symian House of Sons Nikitas Petridis known outside Greece as Petrides Brothers under the general George Nikitas Petridis, with offices in Syros, Piraeus, Paris and London.
Contact

Dear friends of Symi,
The Municipality of Symi opens its gates to cyberspace and the world, and welcomes you to the official website of the tourism promotion of the island!
With honor,
The Mayor,
Eleftherios Papakalodoukas
---